Holiday Club Kuusamon Tropiikki is a versatile hotel and holiday house resort between Ruka and Kuusamo, nestled amidst magnificent landscapes by the breathtaking Petäjälampi pond. Holiday Club Kuusamon Tropiikki offers year round recreational services for everyone, from families with children to couples and groups of friends. Enjoy the beautiful Finnish nature, amuse yourself in Angry Birds Activity Park and relax in the tropical spa.
Changed opening hours
Holiday Club Kuusamon Tropiikki reduces operations until May 2, 2021
We operate in accordance with the regulations and guidelines of the authorities regarding the COVID-19 pandemic and are restricting our activities at our spa hotels. Our holiday homes remain open to both owners and lessees at all of our resorts. The hotel receptions and R-kioski in Holiday Club Kuusamon Tropiikki will serve customers 24/7. But we will reduce the following servicies until May 2, 2021:
Spa is open to all guests from 2 pm until 9 pm
For hotel guests breakfast from Restaurant Mango take-away, 06:30 am to 10:30 am, Sat – Sun 7:30 am to 11 am
O'Learys Restaurant is open 3 pm - 9 pm, kitchen is closed 9:30 pm
A take-away menu is available for all guests from 3 pm until 9 pm. See the take away menu here >>
Angry Birds Park and Bowling are closed
Follow the updated information from here
Accommodation
The accommodation options available at Holiday Club Kuusamon Tropiikki include rooms in the spa hotel and holiday apartments. You can choose whichever option suits your preference: a modern room in the spa building or a unique holiday house with more privacy.
SPA HOTEL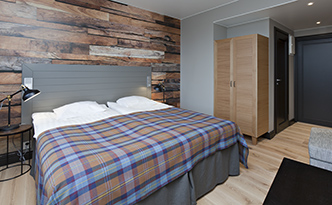 Book a room
Kuusamon Tropiikki spa hotel holds 120 hotel rooms. There are 60 standard rooms, 63 more spacious family rooms and two family room whit sauna.
The hotel also includes rooms for people with allergies or disabilities, as well as eight rooms where pets are allowed, but bear in mind that you will be charged an additional cleaning fee.
All rooms include a TV entertainment centre with satellite channels and a broadband connection.
The amenities also include bed linens, towels, bathrobes and a hairdryer. The superior rooms also have ironing equipment.
HOLIDAY APARTMENTS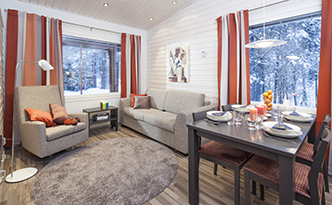 Book an apartment
The Kuusamon Tropiikki spa building contains 55 holiday apartments. They provide you with fast indoor access to the spa's soothingly warm waters and rejuvenating treatments.
Those who value their privacy can opt for a Holiday Club Kuusamon Tropiikki holiday house by the picturesque Petäjänlampi pond, a mere walking distance from the spa.
The holiday houses are spacious and they include an own sauna and a luxuriously equipped kitchen. Each holiday house has its own balcony or yard and outdoor storage equipped with a lock.
The holiday home price includes bed linen, towels and the final cleaning.
TIMESHARE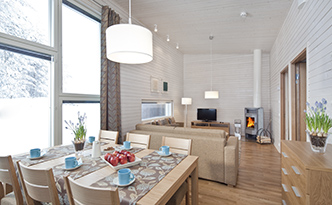 Read more
Kuusamon Tropiikki holiday houses are located in the spa complex and in separate buildings with more privacy. The holiday houses at Holiday Club Kuusamon Tropiikki can be rented, but they are also available as timeshares.
As an owner you own one or more weeks in the holiday home of your choosing. At other times your apartment is rented out profitably.
The holiday houses are spacious and they have own sauna and a luxuriously equipped kitchen.
Check out the resort video
#kuusamontropiikki
Would you like to add your own holiday picture from Holiday Club Kuusamon Tropiikki? Share your picture with us on Instagram by using hashtag #kuusamontropiikki.
Contact info
Welcome to Holiday Club Kuusamon Tropiikki!
Reception is open 24/7
The key service locates at the reception
Left-luggage space at the reception
Check-in
Check-out
Hotel
at 3 pm
at 12 pm
Holiday houses
Lomatropiikki, Lomaparatiisi, Lampitropiikki, Rantatropiikki
at 4 pm
at 12 pm
Kuusamon Tähti
at 5 pm
at 10 am
Villas apartments
at 3 pm
at 12 pm